At the onset of the countrywide lockdown, Zoom had established itself as a leader in the video conferencing market. Up from 10 million users at the end of 2019, this platform pulled 200 million daily users since the lockdown in March 2020.
"Overnight, we signed on so many users, we tripled our capacity, offered K-12 schools free services, it was very exciting," – Eric Yuan, CEO of Zoom
With increased usage, Zoom declared that they're rolling in an all-in-one appliance set to upgrade communications experience. In the same month, Zoom had stated their decision to add over 100 video calling features to ramp up security precautions. The first of the Zoom for Home devices, the new hardware product, will incorporate several Zoom software enhancements. It's said to share multiple similarities with Amazon's Echo Show, Google's Nest Hub, and other video chat devices.More specifically, the Zoom for Home – DTEN ME is a touchscreen device with a pretty simple user interface. An array of eight noise-reducing microphones and three smart cameras designed for high resolution video are already built-in. The touch display on its 27-inch (69 cm) screen is super-responsive, acting as a second monitor for a laptop. But Zoom will not be responsible for building the hardware. Instead, Zoom's partner DTEN will take on this task. Based in San Jose, DTEN is a video conferencing appliance manufacturing company.
You can use the Zoom for Home – DTEN ME for not only one-touch video calling but also smooth content sharing. Additionally, it will provide quick access to your contacts and whiteboards. For those using Zoom Phone and Zoom Meetings, logging in to this device will be as easy as pie!
Primarily a computer-sized tablet, Zoom for Home – DTEN ME, uses ultrasonic pairing to link to your laptop or phone. This technique works like Bluetooth, though it doesn't send out any radio signal. Rather, the ultrasonic pairing makes the device send out an 18-22 kHz sound that most people cannot hear.
The setup isn't as complicated as one might expect. All you have to do is utilize a Zoom user account for logging in to a device that's compatible with Zoom for Home devices. Then, open a website on your phone or laptop and enter a sharing key or pairing code.
Once you launch the interface, touch any function you want to start. These functions include accessing your contacts, making phone calls, and joining meetings. If users want to make and receive phone calls, they'll require a Zoom Phone license.
The content sharing options available on this video-enabled device let teams collaborate virtually, without any difficulty. Educators can even use the Whiteboard function enhanced with high-resolution video and audio. This facility helps them to start their classes in a moment.
"Zoom for Home is an initiative from Zoom that allows any Zoom user to deploy a personal collaboration device for their video meetings, phone calls, interactive whiteboard annotation — all the good stuff that you want to do on Zoom, you can do with a dedicated purpose-built device," Jeff Smith, Head of Zoom Rooms told TechCrunch
To display upcoming virtual meetings in a sidebar, the user must sync the calendar with the Zoom for Home – DTEN ME. A simple click on the 'Start' button next to one of the meetings, and the device will connect you instantly.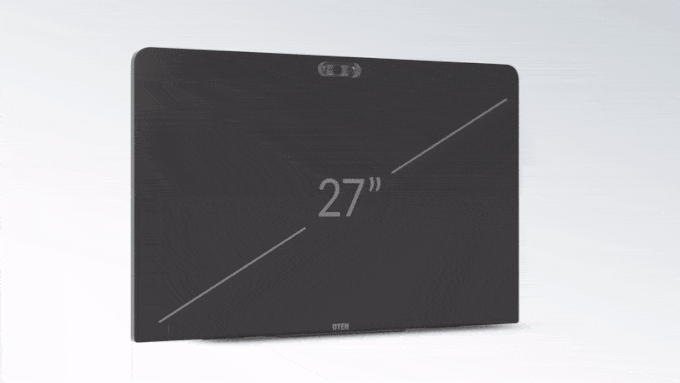 As per managing and controlling hardware, handling employees from a remote workspace is not an easy job. But the end-user can manage Zoom for Home devices by herself or himself, with the help of user settings. Alternatively, IT administrators will be able to update these devices remotely via the Admin Portal.
All these features, bundled together into the product, will cost $599. This device will be available in August this year.
A dynamic functionality and seamless operations make Zoom for Home devices deliver a professional interactive experience. By doing so, these devices allow for improved productivity while working from home.